Luminous Slash
WARNING: This game may potentially trigger seizures for people with photosensitive epilepsy. Player discretion is advised!

ABOUT
Play as a nimble neon rabbit as you glide through the air slashing blocks, collecting carrots, care packages, and roaming through space in this fast-paced arcade-style hack-and-slash platformer! Beware, however, of any red-colored blocks or packages, and don't let your jump meter run out!!

CONTROLS


* Gamepad is recommended *

TIPS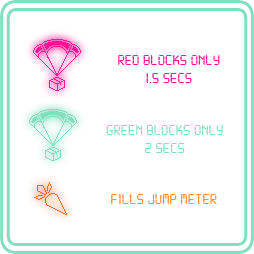 The closer to the bottom of the screen blocks are, the more points they are worth
Try holding down the jump button for long jumps!
For each GREEN block you slash without jumping you increase your point multiplier (1 block = 1x, 2 blocks = 2x, 3 blocks = 3x, etc). Hitting RED blocks will also kill your multiplier.
The best way to rack up big point totals is to slash blocks from UNDERNEATH. Slashing from above will kill your vertical momentum, but slashing from underneath will not!

This game was made in just under a total of 16 hours for the Amaze Me Game Jam, If you enjoy this game please consider rating it!

CREDITS
Download
Click download now to get access to the following files:
Comments
Log in with itch.io to leave a comment.
yeah, sorry I didn't have time for a proper tutorial. Move using arrows and jump using space.
Hit the play button by running into it. The goal is to destroy blocks by jumping and hitting them.
The bar at the top is a jump meter. You get 4 jumps.
Cyan/green blocks replenish jumps, red/purple blocks deplete them. Orange carrots completely fill your jump meter back up!
oh ok thanks I didn't know that, now I know that and played the game it's fun and has good graphices.